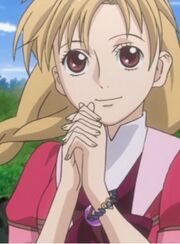 Legendary Etoile
A girl who at first disagreed to be the etoile but later decided to be the etoile to save the seiju universe and save people.
Appearance
Edit
Ange is a girl of medium height with golden hair and auburn eyes. She usually wheres a pink dress with white accents and her Sacrea bracelet.
Personality
Edit
She is kind but doesn't know her own powers. She has a rather sad past because she was always alone and grew up relying completely on herself. She also fell into a deep drepession after a guy rejected her. However, after becoming the Legendary Etoile, she gained confidence and grew to be a strong and determined girl who only has the best interests of everyone at heart.
Relationships
Edit
Ange has an overall good and friendly relationship with all of the guardians from both the Shinchou and Seijuu Universes. Originally, she wasn't aware of Zephel's affections for her, and was shocked when he confessed. Almost all of the guardians from both realms have feelings for Ange, though only a few have openly stated it. In the anime, it is left to the viewer's imagination as to who she ends up with.
Community content is available under
CC-BY-SA
unless otherwise noted.